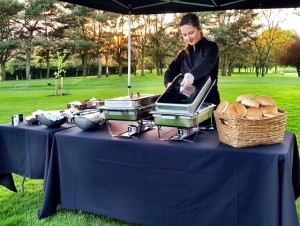 When it comes to hog roast catering, you won't find a more experienced, professional or friendly team than Hog Roast Colchester. We have spent the best part of 3 decades providing unforgettable hog roasts, exciting menus and fantastic service all over the Colchester area for a wide variety of events. Here at Hog Roast Colchester, we love what we do and so do our clients, because there is no other hog roast catering company in the area who could surpass our high standards of food and service or offer such varied menus that cater for everyone's needs.
High-Class Fresh Hog Roasts
We are well-known in the Colchester area for our high-class hog roasts, but we also offer a multitude of other menus that are guaranteed to delight all of your guests, regardless of their preferences or dietary requirements. If pork isn't your first choice, we also have sirloin of beef, whole roasted salmon, organic chicken or spring lamb to choose from, as well of several other alternative meat options. If you have vegetarian guests we can offer a tempting range of meat-free choices, as well as gluten-free substitutes if required. In addition to this, we can provide classy canapes, starters and desserts for weddings, private parties and corporate events and all of our menus are freshly prepared on-site by our highly experienced caterers, using the finest selection of locally-sourced ingredients.
Our Versatile Team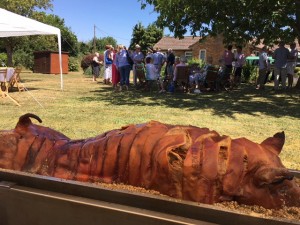 The Hog Roast Colchester team are all expert event caterers who are capable of preparing and presenting your menu beautifully, in any location. We thrive on offering you variety in where you host your event, as well as in the food we provide, because thanks to our multi-skilled chefs and cutting-edge cooking apparatus, we can cater in all manner of quirky locations in and around Colchester, as well is in more traditional settings. We have a range of hog roasting equipment suitable for different locations, from robust machines suitable for large-scale rural outdoor events, to more streamlined roasters that are a great centre piece for more formal indoor occasions. Our skilled Chefs and Catering Assistants have the knowledge and experience to produce fantastic food in any environment and we always go the extra mile to ensure you and your guests have a fantastic day. Impeccable standards is what our customers love about us.